Astor Place Cube Protest-Chalked. We Like It Better As a Rubik's Cube.
Tuesday, February 13, 2007 at 1:45 p.m.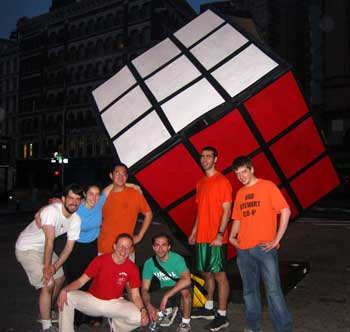 Dear Cube, you were kind of funny this way. More photos from All Too Flat's Rubik's Cube prank here.
Over the years, the Astor Cube (a/k/a Tony Rosenthal's Alamo) has vanished and reappeared. It's been turned into an inoperable mechanical puzzle, cleaned, paid tribute, hit with LED throwies. Today it's chalked.
But we're confused. We're all for peace. We're all for bringing the troops home. We're fine with hugs and hippie smells (
What won't you stop? Repping Brooklyn?
Get the ICYMI: Today's Top Stories Newsletter Our daily newsletter delivers quick clicks to keep you in the know
Catch up on the day's news and stay informed with our daily digest of the most popular news, music, food and arts stories in New York, delivered to your inbox.