Welcome To A Very Long Week
Tuesday, October 31, 2006 at 1:39 p.m.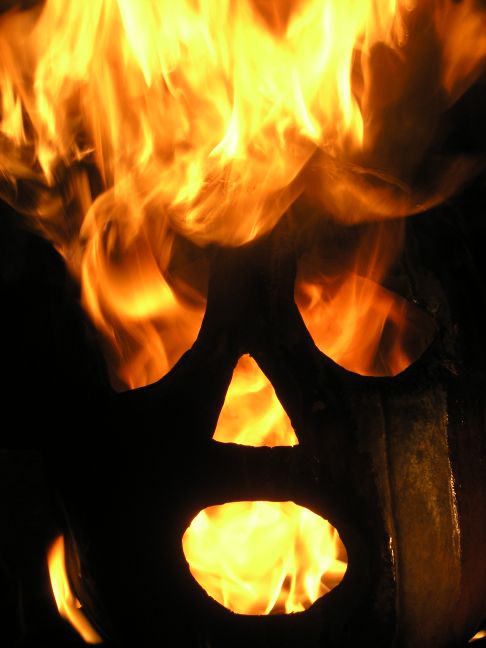 oh man...
Treasure your sunshine. Go play outside. Maybe run some laps. Because once the sun sets, the jig is up. By Sunday we'll all be pale-faced, deaf in both ears, livers destroyed. Go see something green before it's too late. Forget Halloween- this is CMJ.
Lucky for us all, the brain trust over at the offices of the College Music Journal have deigned to take it easy on us this evening- there are only like ten or twenty things you really need to see tonight. Among them:
Sharon Jones & The Dap Kings (Hammerstein, 8pm) are pretty much the only soul act to take a CMJ stage all week; she's a lion and her band dresses well - neither quality will be abundant out there past tonight, so get 'em while you can. Ditto for Teepee's Northsix showcase, with Witch and Teeth of the Hydra (Northsix, 7:30pm), one of the few evenings this week devoted entirely to relatively unadulterated, regular guy metal. Witch, with J. Mascis on drums, craft hazy 70's throwback stuff and are helmed by a goofily angelic vocalist; Teeth of the Hydra are much anticipated, doomy newcomers who ought to reach both the back of the room and the back of your skull without much of a problem. Those unwilling to cross the river into Brooklyn to get thrashed can do it on the LES instead, where the Alone Records showcase (Lit Lounge, 8pm) will have the finest in DIY, basement-hardcore, including Daniel Striped Tiger, Bravo Fucking Bravo, and Mass Movement of the Moth- the most refreshingly unprofessional showcase of the night. More delicate souls can catch singer-songwriter Suzanne Vega (Hiro Ballroom@Maritime, 9pm) or LA's Brendan Fowler, who does quirky, spoken-word monologues under the nom-de-guerre BARR (Alphabet Lounge, 8:45pm). Tonight's wimpy emo quotient ought to be supplied by Reggie & The Full Effect (Irving, 9:35pm) or if you're still up, get the first of what ought to be many dances on with the self-proclaimed 'Body-more Murder King' Aaron Lacrate and The Bangers over at the Annex after everything else winds down (The Annex, 1am).
How about seeing Chuck D and Janeane Garofalo in the same room talking about music activism, right now (Lincoln Center, Avery Fisher Hall, 1:15pm)? What about that?
Stay tuned to this space to see just how much damage five unrelenting nights of music can do to three formerly well-adjusted, informative, and energetic writers. Probably, it's not going to be pretty....
Get the ICYMI: Today's Top Stories Newsletter Our daily newsletter delivers quick clicks to keep you in the know
Catch up on the day's news and stay informed with our daily digest of the most popular news, music, food and arts stories in New York, delivered to your inbox.