William Bennett: Santorum Will Rise Again, Bitches
Wednesday, November 8, 2006 at 9:46 a.m.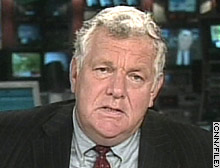 (CNN.com)
Pulled from the CNN.com Situation Room transcript from last night:
BENNETT: Before the body is laid into the ground here on Rick Santorum, you bet very tough partisan slashing. He was targeted by the Democrats who wanted to take him out.
COOPER: Huge money raised, a lot of money.
Upcoming Events
BENNETT: Huge money raised to take him out. What will also be said, as David Brooks wrote in "The New York Times" a couple weeks ago, what you were just talking about in terms of compassion, if you were a victim of AIDS or autism, suffering from autism, if you were in Darfur the issue is partial birth abortion, lots of linking across the parties from Rick Santorum to senators on the Democrat side.
He was the champion, really a champion of the poor, the dispossessed, the helpless, the unborn, whether it be here in the United States or abroad and they have lost a champion in losing Rick Santorum.
COOPER: Rick Santorum though was running, hammering Bob Casey, Jr. saying he was weak on national security that he couldn't keep the country safe. Does that message no longer resonate as much as it did in past elections for Republicans?
BENNETT: Well, Rick never backed off that message but I think, Anderson, you have to look again at the type of candidate that the Democrats chose, you know.
BENNETT: But he's not finished, can I just say that. His political life is not over.
COOPER: Where does he go from here?
BENNETT: You will see a movement to draft Rick Santorum to run. You will see that.
COOPER: Run for?
BENNETT: President of the United States, you will see that.
Earlier: CNN to Pelosi: House Speaker or Granny? Stephanopoulos and Couric Zingers! Tim Russert, Care Bear Luddite Making Eye Rethink a Career in Blogging
Get the This Week's Top Stories Newsletter
Every week we collect the latest news, music and arts stories — along with film and food reviews and the best things to do this week — so that you'll never miss Village Voice's biggest stories.
Upcoming Events