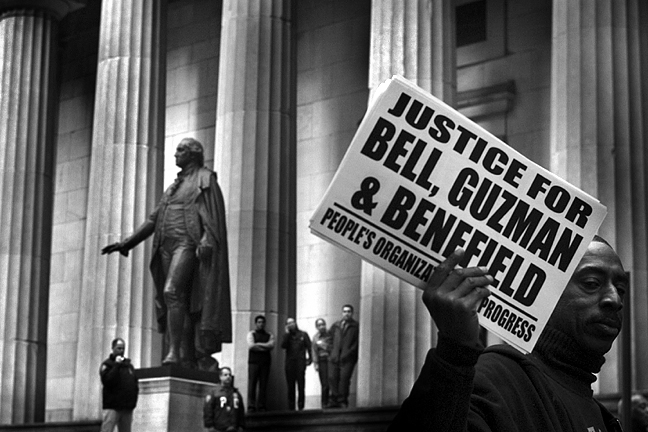 (Taking the message to Wall Street: Photo by Fred Askew)
A march today against police brutality threatened to shut down Wall Street in the holiday season. The demonstration was small at its outset in lower Manhattan, then grew in force before it was ultimately was checked by police.
Organziers, including the December 12th Movement and other activist groups, gathered on Nassau street. Almost outnumbered by media and police, the marchers chanted away the quiet desperation in the air. Despite the police killing last month of the unarmed Sean Bell, 23, only 200 people showed up. There have been several rallies and marches since his death, but this one began with the feeling of power, and danger, missing.
Organizer Roger Wareham took the microphone. "Police can do anything in
Black and Latino neighborhoods and not be prosecuted," he told the assembly. Wareham connected this march to all the marches of the Left saying, "Wall Street was built by slaves, and the police brutality is a result of the racism used to justify slavery." Stranded between the buildings, people listened to his invocation of history and were reassured of their importance.
As they waited to move, a woman complained, "This pig said I hope I won't be
disappointed, there's more press than us." The march began and then stopped,
began again and stopped. In the chilling winds people broke the line into small knots of friends. A Black woman with a microphone walked up and down, hollering slogans to blast the cold off the crowd.
Marching at last, people shook the streets with slogans, yelling "Fight
fascism" and "Kelly must go!" as fists shot up. Police with bullhorns guided
the protesters into a bottle-neck and stopped them before they got near the New York Stock Exchange. Frustrated, they chanted louder and louder as march leaders
negotiated with the NYPD.
Wareham bartered with an Officer Smolka, his hands pointing to the streets
ahead as if trying to part curtains. Smolka held his ground. Wareham went
back and talked to march leaders. "Go back!
Go back!" he finally shouted. Marchers turned around, many shaking their heads.
Reporters circled Wareham. "Police are playing games with us. They're
freezing Wall Street, saying only those with ID can go," he said. "Sharpton's
march on Fifth didn't have a permit. It proves how important a target this
is."
Activist Steven Yip noted the fiery rhetoric backed by merely
mild resistance was almost a tradition in protest. He called it selling wolf
tickets. "When you build expectations and then don't follow through," he
said, "it's like crying wolf."
The march soon pushed up Broad Street. More activists had arrived and the shift in power took the police by surprise. Two scuffles spilled into the
street and sucked media and protesters into a whirl of yelling and
shoving. The police squeezed the march back onto the sidewalk, and it ended
ended on Wall Street at a line of grim-faced cops in riot gear.
The Stock Exchange, which had been the target of the march, was just across the
street but police held the barricades and mounted officers waited behind them. Marchers battered the police with curses. The anger intensified until
City Councilmember Charles Barron climbed a trash can and focused the fury on the next goal. "We will march to the U.N. on January 29th," he shouted and pointed, as if nailing each word. "We will be back!"