St. Patrick's Day weekend is once again upon us, which means toasting complete strangers and kissing people because they're Irish is mostly acceptable (mostly — no sexual harassment, now, ya hear?). Get out your green accessories and start testing your Irish luck — here are 10 great ways to celebrate.
Black Irish Ball, Macao Trading Co., 311 Church Street, Monday, 9:30 p.m.
Enjoy a late night party without the threat of bridge-and-tunnel buffoons, even if drinks here are more representative of the Far East than Ireland. This TriBeCa haunt will celebrate the occasion with live jazz and a burlesque show; reservations are required for the complimentary performance and can be made by contacting the restaurant directly.
Fáilte, 531 Second Avenue
With over 40 Irish whiskeys and live music, this watering hole is a favorite for St. Patrick celebrants looking to save a buck at an Irish pub. The bar features a $20 beer bucket special, $3 brews, and $5 Irish coffees, all great accompaniment to the bagpipe performances that'll be taking place come Monday afternoon.
Irish to the Core Tasting Event, Dead Rabbit, 30 Water Street, Sunday, 1 p.m.
If you need a quick history lesson on Irish spirits, look to Sean Muldoon and Jack McGarry, who will serve up a sampling of five Emerald Isle liquors, including a honey liqueur, Irish cream, and single malt whiskey. Learn to make cocktails over a few Irish bites. Tickets are $40. Can't make the class? The bar will also host a variety specials on St. Patrick's Day, making it a great location to visit throughout the weekend.
Patrick McMullan's 31st Annual St. Patrick's Day Party, BPM, 516 West 42nd Street, Monday, 9 p.m.
If you're still standing at 9 p.m. come Monday night, head over to this nightclub for late night Irish dancing and a special pot of gold cake courtesy of Cake Boss. Those who are first to arrive receive a complimentary beer, wine, or soda, and a DJ will spin tunes well into the early morning hours.
Shamrock Fest, Webster Hall, 125 East 11th Street, Saturday, noon
This massive Village dance hall is serving up four floors of debauchery. Starting at noon Saturday, guests will be able to grab a brew while ogling a live Irish band, leprechauns, and a live broadcast of the Ireland/France soccer match. Finger food and the sound of bagpipes should carry you through the afternoon. Additional information and ticket pricing can be found through the event's website.
St. Paddy's Pub Crawl, multiple locations, Friday, Saturday, Monday
If you're looking to spend all day drinking with buddies, the Village Pourhouse and SideBar are two of many bars featured in a pub crawl centered around $2 drafts and $5 whiskey shots. The mobile drinking party will take place on Friday, Saturday, and Monday; additional information and the option to purchase pub crawl ticket packages can be found on the event's website.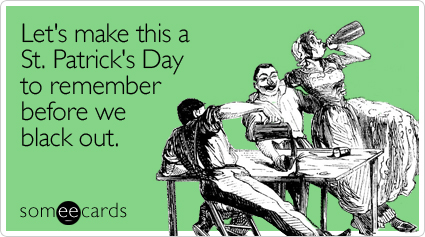 The Lion, 62 West 9th Street
If you're seeking a more refined celebration, check out John Delucie's West Villager, where you'll find the rock of cashel, a special cocktail to enjoy slowly. Named after an Irish castle, the drink is a mixture of Irish whiskey, Campari, amaro, and sweet vermouth.
The Windsor, 420 Park Avenue South/234 West 4th Street, Saturday, Monday
Both locations of this casual sports bar are extending their happy hour specials until 8 p.m. on Monday, which means $5 Guinness and Jameson shots for everyone. Chef Kristine Mana-ay's menu also offers a twist on Irish classics, such as an Irish spring roll, along with traditional shepherd's pie and corned beef. Saturday brings the Windsor's annual St. Paddy's Day party, with scads of food and drink specials.
Top O' The Mornin' Party, McFadden's, 800 Second Avenue, Saturday
Wake up to the sweet smell of eggs and whiskey at this open bar, which runs from 8 a.m. until noon. Make your way through the breakfast buffet and then settle into a boozy weekend. Tickets are $35.
Zeppelin Hall, 88 Liberty View Drive, Jersey City, NJ, Friday through Monday
Starting Friday, this massive beer barn will play host to a weekend full of St. Paddy's Day festivities, including live performances by the Irish band The Blarney Stones. The bar boasts over 50 beers on tap, while the kitchen is rolling out specials like an Irish reuben, bangers and mash, and a burger with Irish bacon, Swiss cheese, and sauerkraut.
---
Advertising disclosure: We may receive compensation for some of the links in our stories. Thank you for supporting the Village Voice and our advertisers.