The Venture Bros. creators Christopher McCulloch and Doc Hammer moved their cast of bitingly flawed characters to New York City for the show's long-awaited sixth season, and the showrunners just spoofed the city's dining scene.
In the most recent episode, "It Happening One Night" — one of their New York–iest yet — sad-sack patriarch Dr. Thaddeus Venture falls victim to blasé Brooklynite evildoers the Doom Factory. The dastardly team are described as "ten of the most ruthlessly self-involved villains on earth," who live "deep within the bleak and dismal Gowanus Canal," of course.
Meanwhile, the episode's b-story revolves around Hank, one of Dr. Venture's sons, who is embroiled in a Romeo-and-Juliet-style romance with his dad's archnemesis's daughter. After ditching their bodyguards, the lovebirds head to Ninja New York (25 Hudson Street, 212-274-8500) for dinner.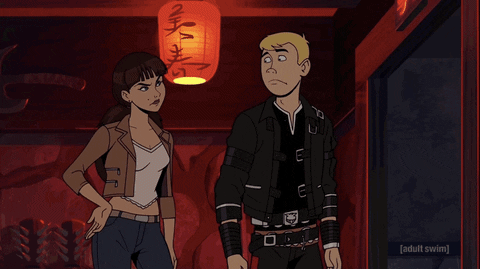 Ninja, for those unfamiliar, is a subterranean Tribeca restaurant that takes dinner theater to a goofy extreme — and has for eleven years straight. The over-the-top experience — in which acrobatic servers perform tricks and waitstaff duties in tandem — makes perfect sense for the wacky world of Venture. McCulloch and Hammer even use the setting to their advantage, as the teens' bodyguards mistake the fake ninjas for real ones and wind up threatening the waitstaff.
Unfortunately, we never get to hear what's on the menu at the Venture-ized Ninja, but the kids do order a "Ninja Ale" and the ninja waiter–recommended Virgin "Deadly" Colada, which comes with a rubber throwing star.
In the decade since Ninja's owners invested nearly $4 million to create their psychotropic gourmet fantasy, New York City has seen countless food trends both fleeting (pizza cones) and unfading (kale). Ninja was silly when it debuted. It's even more preposterous in our current dining climate. But Ninja's odd charms endure, a rebuke against the tyranny of tasting menus and waiters who stay planted firmly on the ground.